Nicole Chase wrote this piece about Port Zélande 2023 for the Web UK Magazine. Unfortunately it is so long, we didn't have room for it. We have included it here as it tells the emotive story of Nicole's first ever Marillion Weekend.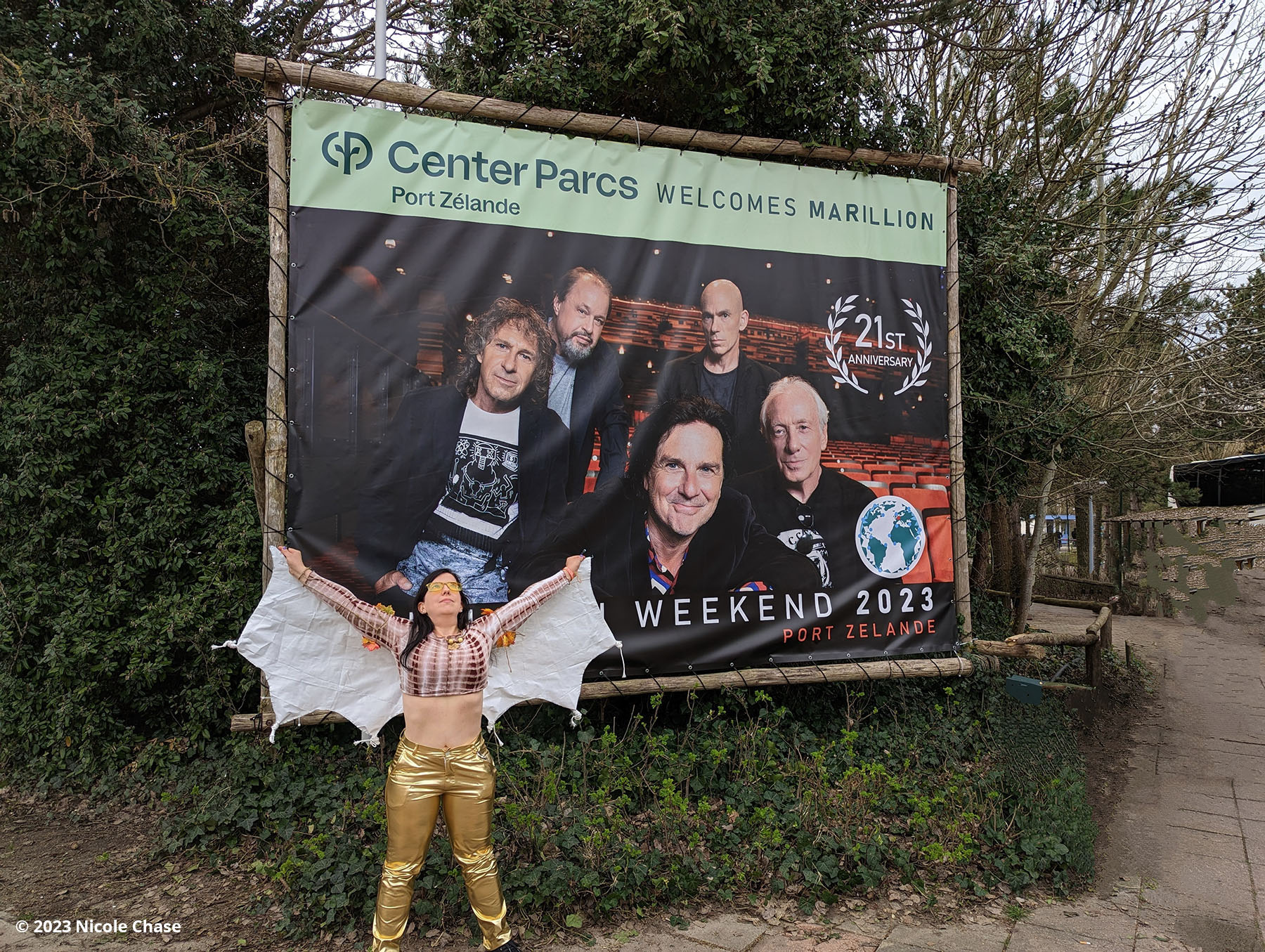 "Or you could love!" h's voice soars eons higher than the tent that is holding over 3000 souls as two confetti cannons shoot out red, heart shaped confetti above the crowd. Within seconds, there's hearts all over the place, including in my hair, on the stage, in the photo pit in front of me, and I notice some of it sticking to the top of the tent. People are singing, and dancing all around me. I see the people holding up the "or you could love" language signs on the stage in front of me dancing and singing, too. It is a beautiful moment.

But, before I can tell you the story of my first Marillion Weekend, I need to tell you the (abbreviated) version in terms of why I was even in attendance at the last night of the first Port Zélande Marillion Weekend since COVID started, riding the rail, mere feet away from Steve Rothery.


10 March 2022

I am preparing for the Cruise to the Edge by listening to various albums of the lineup of artists so I can build up my list of artists that are a "must-see" on the cruise happening in May, and those who I will not see on the cruise. Since An Hour Before It–s Dark is so new, it is likely that Marillion will be doing this album on the cruise. After Reprogram the Gene: ii (Trouble-Free Life), the fifth track of the album, ends, I add Marillion to my list of artists that I "absolutely will not see on the cruise" as that album not only didn't click with me, but it is unimaginative, uncreative, and incredibly boring. Quite frankly, I do not think Marillion is for me and I will not be listening to anything else by the band. I simply do not wish to give the band a second chance; I didn't think they would be worth it.


4 May 2022

I am, for reasons beyond myself or indeed any entity of this Earth or of the known universe, sitting in my assigned seat, F25, in the Royal Theatre aboard the Cruise To The Edge, minutes away from the start of the Marillion concert. I honestly do not know why I am here. Perhaps I am here because I recognise I could leave if I am bored. Perhaps it is out of guilt. Perhaps I am here because it seems like I can't go a few metres without seeing some crazed fan wearing a Marillion shirt, or wearing some sort of Marillion–related merch that is being sold on the cruise, or was brought from home. Perhaps I feel like the seemingly thousands of people on the cruise who are fans of the band know something that I don't know. I highly doubt that is the case, but, giving the band a second chance, a second chance that I don't believe they deserve, is the least I can do.

I stay the entire time and hear their entire 1.5 (ish) hour long set. After walking out of the Royal Theatre in an almost euphoric daze, feeling as though I'm trying to process hundreds of emotions concurrently, I see someone who I spoke with at the pre–cruise party on Sunday. Someone who I know is a fan and yet I had still decided to be a douche and say that I hated the band, the band that they love, to their face. Fate smiles upon me in that convenient, often serendipitous way that fate seems to have. I say "I understand" to them. They look confused.

Can't say I blame them, honestly.

I continue in a breathless sort of way, "I understand why people are fans of Marillion. I understand why fans fly all over the world to see them. I get it."


14 March 2023

A little over a year after I swore off listening to Marillion ever again, I am nervously, excitedly, and apprehensively boarding a plane that will take me to Amsterdam. A little over a year after I refused to give the band a second chance and was so annoyed at Marillion fans in prog rock–related Facebook groups rambling on and on and on about the new album and rambling on about those damn taxis and buses that were advertising the new album, I have become that Marillion fan that I despised, smiling to myself as I look down at my custom made, purple Marillion shirt. What a difference a year makes.

I am flying to my first ever Marillion Weekend in Port Zélande. How I was able to go to begin with is a series of serendipitous events in of itself, but that's a different story for a different day.

Despite having done my homework about what the heck these weekends entail, and especially those at PZ, I have no idea what to expect. My goal is to get off that coach in PZ with no expectations. With no wish list of what I want to do while at PZ, like being able to tell the band that they were entirely worth the second chance that I gave them, and apologise for not listening to them sooner, especially with how impactful their music has been for me, in a short amount of time… but they've probably been told this thousands of times by other fans. With no expectations or desires of songs that I want to see. With nothing other than myself, the three purple shirts that I've made, and my two costumes. I intend, hopefully, to leave all of the petty, nonsensical garbage from my life back home, in Florida, where it belongs.

"Well, here goes nothing," I mutter to myself as we take off.


16 March 2023

I am sitting on the coach en–route to PZ from Amsterdam's airport. As I sit and marvel at the landscape, listening to the eclectic song choices that the driver is playing (I suppose going Script for a Jester's Tear to An Hour Before It's Dark makes sense in a metaphorical sort of way), I am using a hole punch to poke a hole into some fake autumn leaves of various colours that range from greenish to brownish that are part of one of my costumes that I'll be wearing at PZ.

I look over and see a number of people by me giving me a weird look; perhaps this behaviour is out of ordinary (even for a Marillion fan? I muse to myself). One of them asks me what the heck I'm doing, and more importantly, why I'm doing what I'm doing.

"It is for a costume that I'm planning on wearing tomorrow night,"" I reply.

"And your costume is…?"

"Do you know of the Afraid Of Sunlight winged promo picture?"

They nod.

"I'm doing my interpretation of it. The leaves are representative of the lyrics from Beautiful, y'know, the 'And the leaves turn green to red to brown' part." I hold up the twine with my hole punched leaves, in order from green to red to brown, on it. "I'll be wearing these around my biceps and also will have twine around my wrists. Doing so will mimic the areas, biceps and wrists, where h had the rope on him in the original promo picture. I figured it is the way to still be as accurate as possible to the picture without having the huge, gorgeous wings that he is wearing in the original promo picture."

They look at me with an awed sort of facial expression. "And you've been a fan for…?"

"Well, technically since last May, but in very late November, I sort of fell off the deep end."

Before long, I get my first glance at the cottages from the road. The minutes quickly go by: we're here! After leaving the coach, I get into the queue for the registration area and I see it.

I see the welcome picture of the band. I had seen a few pictures of it on Facebook earlier in the week before I began my journey, but seeing it here, in person, feet away from me, puts a lot into perspective.

I'm actually here. The pipe dream of having PZ being my first Marillion Weekend is officially realised. My eyes dart in every direction: the cottages that I'm seeing in the distance, the Market Dome, a movie screen, bikes, bikes, and even more bikes! Crowds and crowds of people hugging, chatting, screaming, and smiling. PZ really is a sea of smiles, isn't it? I think to myself.

Hours later, I am walking to the Adventure Factory where Lucy's movie–themed 80s Disco is currently taking place. I hear h sing 'Live in the moment or you'll never be free' from the Distant Lights Port Zélande concert that is playing on the screen where the Market Dome and the Adventure Factory are located. I'm starting to wonder if those lyrics from Essence will be the overall theme of my time in PZ, as this is my second time hearing them today. Ironically, one of the three purple shirts that I made is covered in lyrics from that song.

Fitting.

My costume is cheesy, if I'm being honest, because it combines a movie with a Marillion song. I ended up going with Peter Pan, because, y'know, Neverland. I am wearing green leggings and tunic (aka a giant polo I've repurposed). On my belt, I have Christmas ornament hooks, pouches containing marbles that I am going to pass out to people attending the disco, and a light–up tambourine. I am wearing Tick–Tock the Croc earrings, too. My leggings and tunic are covered in lyrics from Neverland in gold fabric paint; some of the lyrics are also in glow–in–the–dark paint. On the sleeves, there are guitar chords from the two solos in the song. To finish it off, I am wearing mini fairy LED lights around my legs and my torso.

Upon walking into the Adventure Factory and flashing my orange PZ wristband, I see hundreds of people. Normally, I am very overwhelmed around this amount of people, but dangit, I am going to push past it. For me, this weekend is all about running towards things that scare me and being around a lot of people, and moreover, people who I don't know, is quite unnerving. I find a spot near the front and start to dance. Lucy, or should I say Cruella de Vil, is in front of a laptop acting as the DJ. She plays a number of wonderfully cheesy 80s songs and the crowd roars back as one voice singing the lyrics, myself included. Her last song ends and, after leaving the stage with cheers and applause from the crowd, another person takes over. I leave the dance floor to get a drink (I, naively, thought that if I put in 90 euros that I could select the amount of tokens that I could get back; I couldn't so I guess I need to drink a lot this weekend… or give them to someone). I pay the bartender 2.5 tokens for my drinks and as I'm waiting for them, I hear the opening guitar riff of Hooks In You begin. I see some of the bar staff bop their heads to the music and I hear myself gasp "I love this song!" The bartender hands me my drinks, and while making my way back to the dance floor, loudly singing the lyrics, I raise a drink to toast this wonderfully catchy song.

A few songs later, while on the dance floor still, Cover My Eyes starts. The crowd clearly likes this song more than Hooks In You, as the latter didn't get nearly the same reaction by the crowd. There's something magical about hearing probably close to 1,000 people scream the lyrics to the song, and especially the 'Pain and Heaven' part of the chorus. While singing this song at the top of my lungs, I could feel myself letting go, living in the moment, and being free, but there is something hindering me.


17 March 2023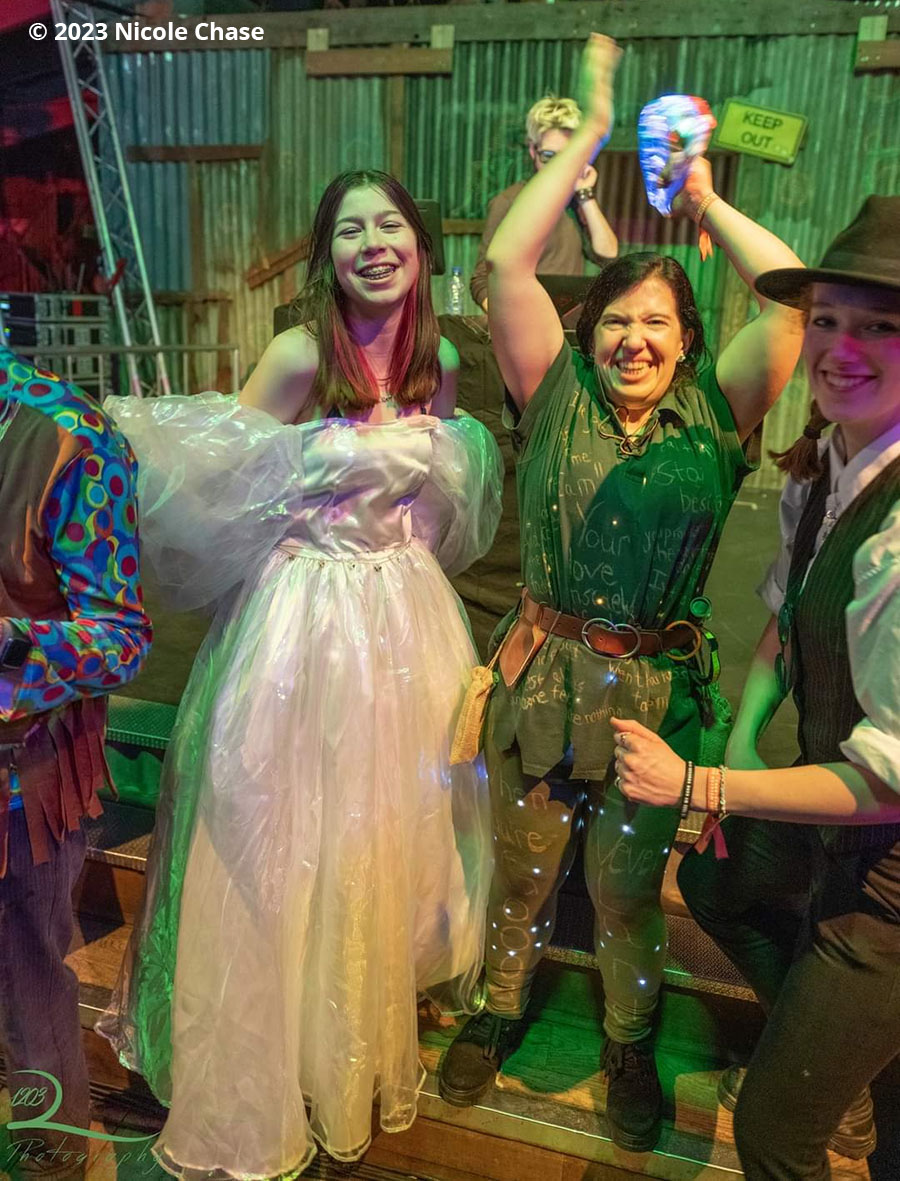 I am about ready to leave my cottage to go wait in the queue; I am wearing my Afraid Of Sunlight costume. I am terrified that I'm actually going to walk outside wearing this ridiculous costume. I look at myself in the mirror and listen to Beautiful. Still looking in the mirror, I say aloud "The worst they can do is laugh at me." I grab my bag and leave. Someone looks at me as I'm closing the door, making sure that it locks. There's a sort of energy running through me as they look at me. Since childhood, I've always, always been self–conscious of my appearance and really didn't have much in the way of self–esteem or self–confidence. But as I'm walking down the path from my cottage to where the queue is, and as people look at me with weird looks, there's a sort of transformation, a seemingly instantaneous change that happens.

I don't care what others think. I'm existing as my own person and truly, the only person's behaviour that matters is, well, mine.

I am now in front of the welcome sign with the picture of the band on it and I see a man sitting near the picture. I ask if he wouldn't mind taking a photo and I give him my phone. I stand off to the side of the sign and hold my wings up in my hands. He snaps a few photos and compliments my costume. It is a little bit after 2:30 pm and I'm maybe 15 away from the front. Not bad as doors open 3.5 or so hours from now. The next song starts and after the first two piano chords play at the same time, a number of people in the queue, myself included, scream Fantastic Place! What a bunch of nerds we are that we know what song it is the moment we hear those two chords. The band plays the entire song and after the conclusion, the queue bursts into cheers and applause. I double check to make sure that the little yellow plastic baggy containing tissues is safely in my bag I'm carrying with me. They are. Whew. Just taking precautions.

The queue is full of very interesting people. At least in my general area, at this specific juncture in time, I'm the only person from the States; there's a couple from France, and a number of people from Brazil along with Mexico.

Shortly before the doors open, someone in the queue tells me "So, when the doors open, you're supposed to walk to where you want to stand… but no one does. So run." Sage advice. The doors open and I'm off, running in my boots that aren't the best for running to somewhere ideally on the rail. I end up in the second row. Five or so minutes later, I find myself in a different location entirely: I'm on the rail. The microphone stand of Dilemma's vocalist is in front of me, so I imagine that when the stage is reset for Marillion, h's microphone stand will also be pretty much in front of me.

Honestly, not bad for my second ever Marillion concert.

A few hours later, I am a ball of nervous energy, threatening to burst, but absolutely floored, for the seemingly hundredth time since arriving, I am at PZ. The lights dim and the audience screams. A five minute countdown clock starts.During the last few seconds, the audience counts down and screams again when the clock disappears. In its place, a sort of Marillion–esque Universal Pictures (y'know that globe that happens at the start of an Universal Pictures movie or programme?), video plays and concludes with the screen that says 'Marillion Weekend 2023' Underneath that, it says '21th Anniversary'.

The stage goes dark and there–s a sound clip of bees buzzing; a few seconds later, the sound of birds chirping joins in. As this sample plays, the band members start to come out and join in on El Dorado, the first song of this Weekend. h walks out onto the stage to cheers and applause that feels like a wave with how quickly it starts, crescendos, and stops. He starts to sing the first segment of El Dorado before it continues into the second segment, The Gold. El Dorado snakes its way up and down its dangerously sexy melodic nature that really, in my mind, shapes the F.E.A.R. album very well; there';s a lot of really dark, gritty aspects of this song, that play over well in later songs on this album, but also some glimpses of innocence and light, that, again, are referenced in later songs. This sexiness, for lack of a better word, is that much more powerful live, as I'm witnessing at the moment with the fourth segment, F.E.A.R. as h sings "You can't see into my head". After the fifth and final segment of El Dorado concludes, is the very solid This Train Is My Life. We, the collective audience, were already singing since the first sung note of El Dorado, but This Train Is My Life takes that up a few notches. We sync up with h perfectly as we sing "this train is my life, speeding through the night".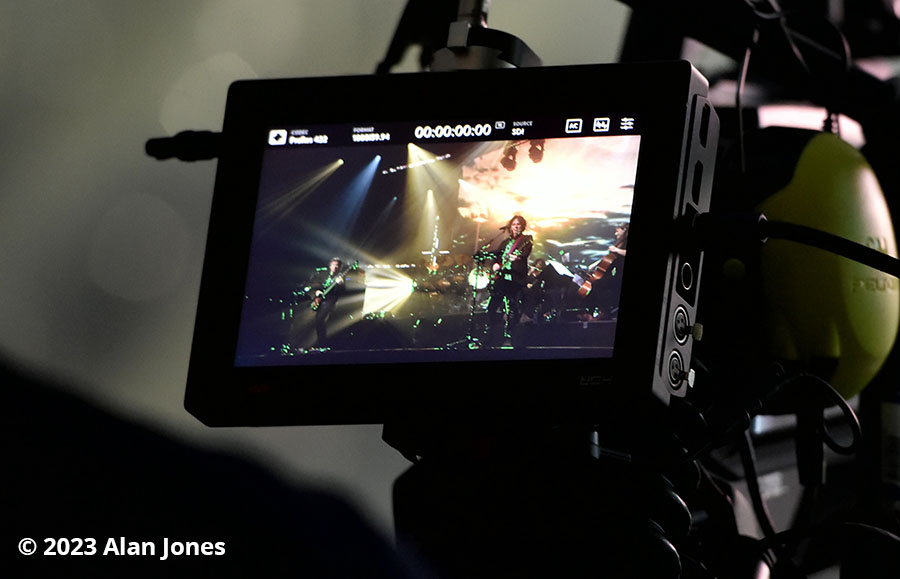 The background screen changes in such a way that reminds me of Holidays In Eden and I gasp for what is probably the thousandth time in the past hour, or at least today as The Party starts. Glee fills me as I, with the audience, join h as we all sing "she bought a bottle of cider, from the shop on the corner". I think about the many times I have danced (and sung) this song (with and without a bottle of cider) since I first heard this album in late November. The glee continues during the course of the song until it turns into a sort of magical, mystical energy as we sing "Oh and by the way, welcome to your first party". What a great welcome to what is going to hopefully be my first party.

The beautiful guitar opening of One Fine Day starts and I do a little dance where I stand. I sway side to side as I sing with h and prepare myself as the bridge is my favourite part of the song. As I sing "life is strange, it can leave you high and dry" with h, I shake my head out of disbelief as, well, to say life is strange, especially right here, at this finite moment of time, in this particular space, is an understatement. Watching the band in their element is a beautiful sight to see. As I look over to my right, I see Rothers feeling the music flow through him; that he is just as much of an extension of his guitar, as the guitar is just as much of an extension of him. Music, for my money, is the universal communicator that transcends language, culture, identity, and all of the barriers that humanity put up to make ourselves different (with malicious or non-malicious intent); you don't just listen to music, you, as I'm observing Rothers and observing h during an extended period of time in which he's not singing or bouncing around the stage, feel it, you experience it everywhere there's a neuron, or part of your soul in your physical form.

Those two chords play again and the audience explodes as the introduction to Fantastic Place continues. This is just one of those songs that my soul, my energy just connects with; perhaps that's what h was implying with the lyric "put your arms around my soul, and take it dancing", a lyric that he, and the audience, are currently singing as one collective soul, one collective voice. As we sing "Say you understand me, and I will leave myself completely", I make a decision to take my white wings in my hands and raise them up towards the heavens. My eyes start to leak a little bit, but it isn't anything that warrants a tissue. For reasons that I won't go into that line is one of the most important, one of the most validating lyrics in the entire Marillion discography. My soul is soaring somewhere around Mars at the moment without any care in the world, mostly because it isn't in this world anymore. Good. It isn't supposed to be.

Prior to the start of the next song, h says that this particular night, while not really themed, does have a Holidays in Eden theme about it. I am ecstatic by what other songs from this album the band will play. Hearing the opening to No One Can brings me so much joy. Following that, Dry Land starts to play. The screen behind the band, which is a wonder in its own right, plays a re–imagined version of the Dry Land promo video. It is still the same original video, but it looks like it's been painted with some really cool brushes that gives the video an engraved oil painting effect. The screen is split up into three equal rectangular sections each of which shows something different. In short, it is gorgeous and there's, unfortunately, no way that I can watch the band and the screen at the same time.

After Dry Land the screen switches to a static image that makes me wonder what early Marillion song they'll do. I don't have long to wait as the opening guitar riff of Warm Wet Circles starts. The audience, still singing along with h, gets to shine during the section of the song that starts with "In a warm wet circle, like a mothers kiss on your first broken heart" as h gets close to the edge of stage right, removes one of his in–ear monitors, and holds up his microphone to the audience. His face is full of joy and it is an incredible sight to see. He joins in on "to the warm wet circles". As Warm Wet Circles transitions into That Time Of The Night, h takes a seat on a ledge in front of Ian's kit. His microphone is still on his stand. He's closer to where I'm standing now, and it is so neat to see his face practically light up, like it could power the entire tent (and then some) with the way he's reacting to us singing the start of the song in a roar that sounds like one, huge voice is singing. I can only imagine what that must sound like on stage.

h tells us that the next song is for us, and, quite simply, there's truly only one song that could possibly be. The Leavers starts and the screen shows off once more by displaying a massive destination airport board that flips with various locations as h begins the tale of life on the road, and life traveling from destination to destination when all it ever feels like is like you're constantly waving goodbye to people. The third segment of this suite, Vapour Trails In The Sky, starts with that characteristic guitar tone that Rothers has along with a steady drum beat from Ian, and I let the first few bars rip as loudly as I can sing, concluding with "we're somewhere above you, vapour trails in the sky" as throw my right arm up, and point towards the sky. The song ends and the band leave the stage.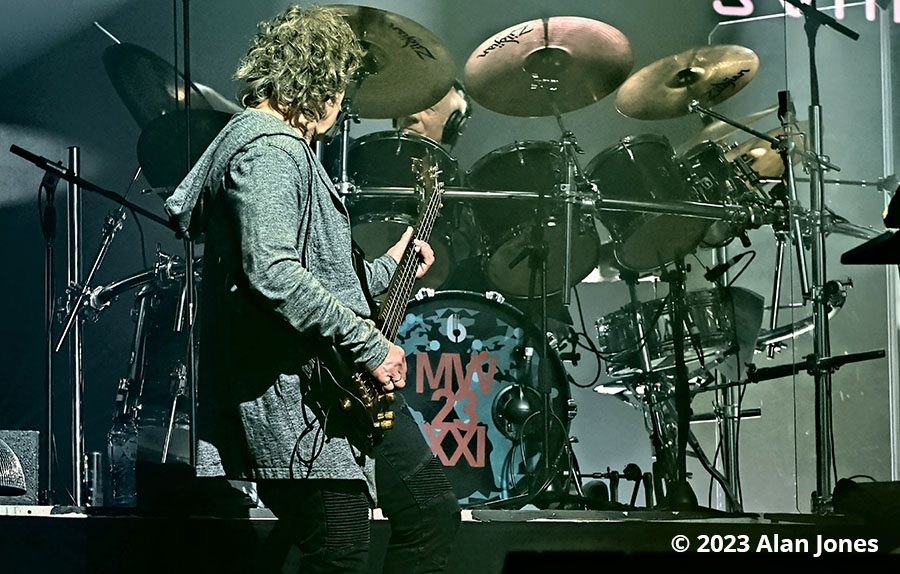 The audience's energy is palpable. We scream, cheer, and clap until the band comes back to the stage. Pete walks out and the audience starts chanting "Pete, Pete, Pete, Pete, Pete, Pete, Pete". h wearing a smart, blue button–down with white Hawaiian flowers on it, sits in front of the piano. I smile to myself as I think about how short the piano is and how that's sort of an 'in-joke' in some respects. He starts to sing "Here today, gone this afternoon", and I scream: I can't help it. Three Minute Boy, despite not having, well, okay, trying not to have a wish list of songs that I wanted to hear while at PZ, is certainly on that list (that doesn't exist, of course). I first heard this song back in early January and it was love at first listen. The audience diligently sings the "lalala, lalala, lalala, laas" part, and as h sings the "now they scream" part, the audience (self included) screams and lets everything release. h gets up from behind his piano and goes over to stand next to Pete. They can look at the audience screaming (I mean, we were just following directions, but I understand that it is some sort of a tradition now to scream when that part comes up), after a few minutes (yes, we're still screaming; I'm even doing so as I write this), h leaves Pete and goes back to his piano and continues "as they run after him". I can feel my excitement building as we're getting ever closer to the part that is the reason why I really hoped this song would be done at PZ. "But too much love will do in, forgive, forgive, forgive, forgive", h sings and, time seems to slow down as everyone joins in and sings the next part; I sing the high "oooo" part with reckless abandon exactly in the same way that I do when I sing this song in my car. There have been a few moments in my life when I've felt like I was alive for the first time; when I felt like I was taking a breath of something for the first time. That moment, and lingering throughout the rest of the song is one of those times.

The song ends and h leaves the stage for a brief moment to come back out with… a cricket bat! My eyes get wide. The audience goes on a journey of h's life ensuring that, even though we're all singing along with him, we hit our audience participation line as we whisper "You're the only one". During Rothers' solo of this song, h watches him with a similar look as he had earlier when the audience was singing Warm Wet Circles. "This love, this inconvenient, blind, blood diamond.' The song grows in its intensity at this part that is full of entropy and chaos, which is apt for the subject matter that it is conveying. Being they're likely concluding with this song tonight and obviously this being the first of three nights, I am curious how h will sing the last few bars when the entropy and chaos goes up a few orders of magnitude before it explodes in a hugely emotive climax.

Impressive as hell is all I think when that part comes to an end and I get a chill, despite it being pretty warm in the tent.

The audience throws all of that emotive energy back at the band and the four of them join h in front. For me, I find it so cool that even though they've individually have been part of hundreds and hundreds of concerts throughout the course of their musical careers before and with Marillion, they still look at us just as if we're something that is so fragile, but strong; as something that is so privileged, but deserving. Love, in whatever sense you want to call it, is real and it is coming off of us, the audience, in waves towards the band. h picks up the microphone and says "This is the best Friday night show we've ever had here". We get even louder as they wave and leave the stage.

Holy. Freaking. Crap.

What a concert to have as my second ever Marillion concert.


18 March 2023

Around 3:30pm, I get in the queue. There's a few more people in front of me as opposed to yesterday. A friend makes eye contact with me and comes over to chat with me. I ask her how the photo was with the band, as she's one of the lucky people who won the photo or signing contest. She tells me that the photo is actually tomorrow, not today. She invites me to join her in her photo since she registered by herself and she was told that she could bring someone with her, which is absolutely amazing. I thank her profusely and she tells me when and where the photo is taking place. It is a bit chilly outside, and the sky looks like it could open up and dump rain on us whenever it feels like it. Hopefully, it'll do so once we're inside the tent.

It doesn't.

About 20 minutes before the doors open at 6pm, it starts to rain. And not that annoying spitting sort of nonsense, but proper rain. There's a person with ponchos, but they're gone in seconds. Pity. The doors open and, like last night, it is a race to get to the rail. I end up being in the second row, but I'm essentially right where I was last night, so that's a plus. I am, however, both very short (1.58–ish metres) and behind tall people, so my view of Rothers and Mark is going to be nonexistent unless I lean way over. Pity. Curse my genetics.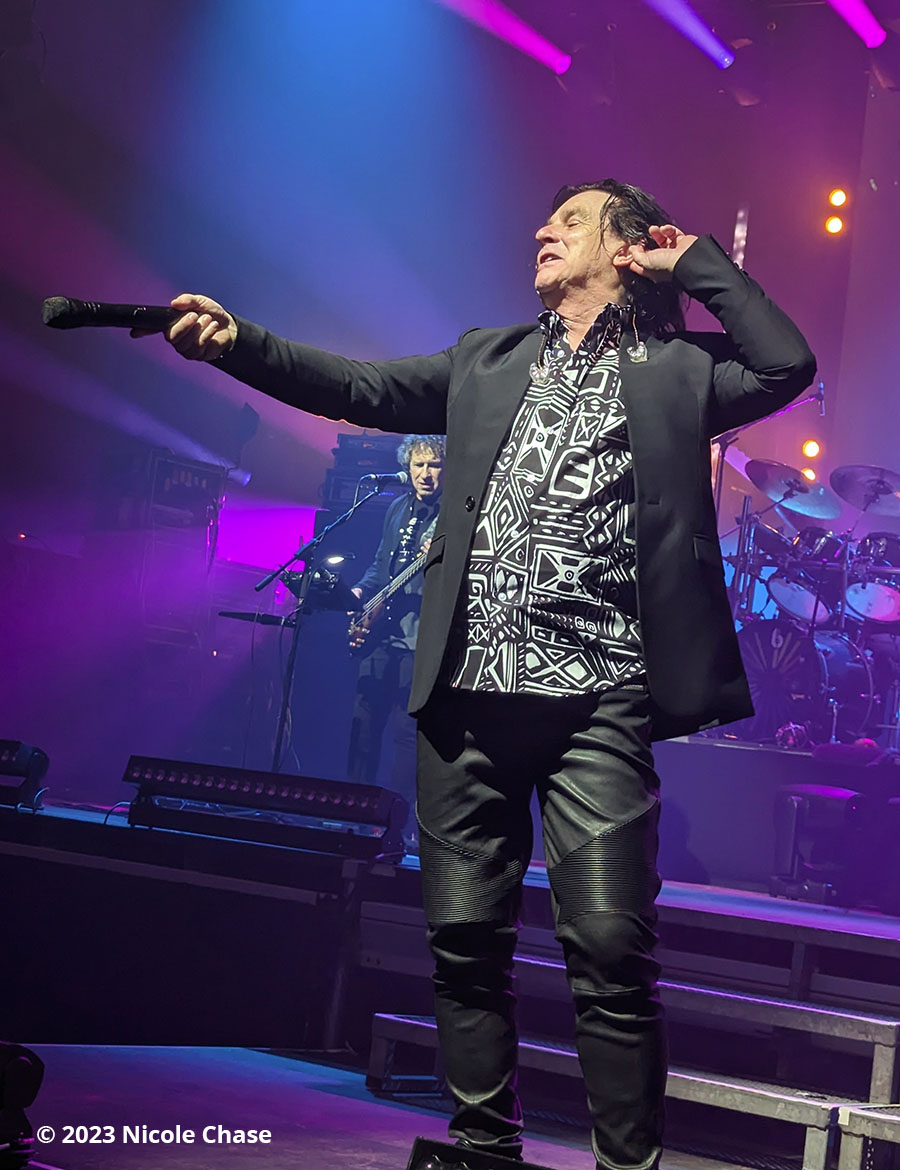 Speaking of the stage, it looks quite a bit different tonight than it did last night. For one, Ian's kick drum cover isn't the 'MW23 XXII' one that he had last night, it happens to be of the art of a particular album that I am very pleased to see. Additionally, there's some more percussion instruments, including multiple conga drums, set up stage left of Ian's kit. Curious. Even more curious is slightly downstage from the aforementioned percussion instruments: four chairs and four music stands.

A while later, the disco ball above the front part of the tent starts rotating as seemingly thousands of 'stars' come out of it, blanketing the stage with imagined celestial bodies and the crowd, too. The lights (truly I am glad that Yenz Nyholm, the mastermind lighting designer, is a lighting designer; I firmly believe he could creatively bring down civilization if he put his mind to it) only reinforce the space theme. Carl Sagan's voice breaks the silence as the screen displays the famous Pale Blue Dot photo. Sagan's speech lays the foundation for the transition from his speech into Be Hard On Yourself. Much like last night, one by one, the band comes out, with h coming out last to begin singing the song. And, much like last night, the audience sings along with him. As we all start singing, I immediately get chills remembering that the last time I heard this album live, I didn't know a single word; hell I didn't even know the names of the band members and now here I am at the second night of my first Marillion Weekend. Just so wild.

"Run towards things that scare ya, I dare ya", I smile as we sing that lyric. It is my mantra for this year, and for the foreseeable future. It is wonderful hearing it live again. I notice that whenever he gets a moment, h turns so his back is facing us and he fixes something underneath the long, black coat that he's wearing. After Be Hard On Yourself ends, h welcomes us to the 'album night' of the weekend and he introduces Luis Jardim, who is sitting behind h, with thunderous applause. He also introduces In Praise of Folly 'the proper musicians', the wonderful string quartet and they enter with their instruments and sit down. "Excuse me, but I need to fix this shirt really quick as it is currently up to my nipples." He spins around, fixes it, and spins back. "Probably should've tested that shirt ahead of time. Let that be a reminder to you all, don't assume something is going to fit you: test it out beforehand."

I've been there, h… I think we''ve all been there.

Reprogram The Gene begins in its brilliantly, bluesy sort of way. I remember the first part of this song, Invincible being a highlight for me on the cruise, and it is neat to revisit this song live again, with how much has happened, and with how much my life has changed since then.

Before Only A Kiss/Murder Machines starts, h talks about how the band didn't want to make a song about COVID, but… well, they did. The screen shows portions of the promo video, too. As much as I love this song, hearing it live (again) is brilliant. The heaviness and the grittiness of the song really shines that much more live, especially with the addition of Luis as both he and the Follies weren't on the cruise last year. This heaviness becomes more powerful with the way that h is channeling his movements through the lyrics by fake choking himself, similarly to what he does in the original promo video. It just hits differently seeing it in person, and especially from a close distance.

After the song ends, h leaves the stage briefly as the band, Luis, and the Follies begin The Crow And The Nightingale. He comes back shortly before his vocal cue wearing a completely different outfit. While this isn't out of the ordinary, it is more what he's wearing that is causing the audience to react in a bemused fashion.

He's wearing a big, black, long sleeve feathery jacket. The jacket is just the right amount of camp so it doesn't become a cliche, but it so works. It is perfect. I notice he's also wearing the shirt that was, presumably, the one that he had said earlier that was apparently "up to my nipples". He ups the camp factor by flapping his arms… errr, wings, with a mischievous smirk. Throughout the course of the song, he gets closer to the edge of the stage nearest to where I'm standing, something that he's done periodically so far tonight, and, like the previous times, there's the beginning of what sounds like feedback, so he backs off and it goes away. I gotta wonder if this feedback is intentional so as to deter h from doing what he did last night, which was to stand very, very close to the edge of the stage on stage right, and fall, but it was saved by him jumping into the photo pit. There was a brief few seconds when we (ie those of us who were not on stage right and really couldn't see much) weren't sure if he was okay or not because we couldn't see, but then cheered when he was casually walking down the photo pit interacting with fans and continuing to sing like nothing had happened.

Crow is a dang masterpiece of a song. It is certainly special, with the Follies joining in and contributing to the music. Everyone in the tent, band, Luis, Follies, crew and audience, were wrapping the sun with silk. There's a lot of emotive, and meaningful power in Rothers' guitar solo happening down. Hell, even h sits down in front of his microphone stand to experience the power of that solo. A beautiful moment that captures the raw power of live music. He looks over at the Follies who are playing during the solo and then at Rothers, smiling, before turning back and getting up to conclude the rest of the song. Phenomenal performance and there's still two songs left of this album.

Before the start of Sierra Leone, h tells a story about the reason this song was included in the album, and what the song represents. I stop myself from crying during the third segment, The Diamond, when the speaker notes how they're finally free, bondage has nothing on them anymore. I relate to that speaker to being free as there's nothing like the taste of freedom, of walking free having left what (or whom) was digging into you. During the final few lines of the song, h lies down on the floor of the stage, mirroring the imagery of the song when the speaker talks about dreaming on the white sand, and finishes the song whilst in the same position.

Care, quite simply, needs no introduction, as h doesn't give one before launching into the first segment of the song, Maintenance Drugs. I could listen to this song for hours straight and just not tire of it. The first chorus starts as does that gorgeous guitar part that foreshadows my favourite line in the entire album, the falsetto "An hour before it's dark,"" which the audience sings with h loudly, strongly, and confidently. We, the audience, are singing "These are the moments burned into the sacred places of our hearts, thank you for making me truly, truly alive" not just because we know the lyrics and wish to sing them. We're singing them to the band and because of the band. We know how privileged we are to be here right now, knowing some of us who were here, pre–COVID, and during the last PZ in 2019, aren't here anymore, and we ponder those lost lives as we sing "In a life where luxury was sometimes, to survive." The energies, the waves of emotions from the band, from Luis, from the Follies, from those around you, from the tent itself, which seems to take on human characteristics during intense, emotive rollercoaster moments, such as Angels On Earth. There's really nothing else I can say about this song as I'd rather not sob whilst writing about it. If you know, you know. You know about those angels, you know about those heroes.

You simply, know.

In what could be the biggest 'gotcha' of the night, the band goes from one emotional rollercoaster in the form of Care to… Estonia. I suppose if you're already crying, why not continue to cry, right? The Follies play a beautiful, somber introduction to this song before the band joins in. Our collective voices soar as we sing about no one leaving us, when they live in our hearts and in our minds. Beautiful. A cathartic song that many fans have pegged as their funeral song; can't say I blame them. I make it out of the song without sobbing; a win, personally.

The Follies and Mark play the introduction of a song that is the Marillion song that has made me cry the most consistently since I first heard it in late December. Afraid Of Sunlight, is a spectacle to watch live. The screen uses the flaming halo in the original album art that frames h perfectly: he's since gotten out of his Crow coat. While singing the song with the audience and h, it washes over me. The audience matches the desperate, grabbing for any sort of lifeline energy of the lyric "King of the world, how do you feel? What is there to feel?"

A song is starting that I didn't think would happen, but it is. Go! is playing. Much like the vocalising "yeah" part of Three Minute Boy that happened last night, there's a part of Go! that needs to be sung loudly; it is happening right now. The audience, with h, sing the "Ooo" part after "It only takes a fraction of a second, to turn your life upside down". h goes over to the edge of the centre stage, once again stepping back because of the tremors of feedback, takes out his in–ears, and holds the microphone to us, cupping his ear. We understand and become louder, continuing to sing "Wide awake, on the edge of the world". After the band formally ends the song, the audience has other things in mind.

We continue to sing "Wide awake, on the edge of the world". By this point, the band, who are either on the stage (h, Pete, Luis, and the Follies) or off the stage (everyone else) as they were going to walk off before coming back on for what would likely be the final encore of the night, have already taken off their instruments. Pete walks over to h's microphone stand, grabs a tambourine from the stand, and with h, they join the choir of the audience. Pete looks totally off guard; just as if he didn't plan, or at least wasn't anticipating this happening, or at least to this level. The both of them look at each other and look out at the audience still singing this line. Being part of this organic moment that can only happen while live music is happening is a moment I will treasure forever. Honestly, all that is missing is a huge fire pit that all 3,000 of us could sit around and sing while Pete and h sing with us and Pete hits a tambourine. Pete eventually puts the tambourine back and both he and h leave the stage. The audience stops singing for only a few seconds before we start back up again, waiting for the band to come back out again.

Wondering what will come next, the Follies come out first and begin playing a very, very, very familiar introduction. One by one, the band comes out and walks over to their instruments, getting ready for their cue to enter the song. The strings change their energy; from legato and free to the quick, choppy, exciting staccatos of the opening of The Space. Rothers joins in with his bends, and h walks out to begin singing "On top of the world, like a flag on a mountain". Joy doesn't begin to describe my mood right now that I'm actually going to hear The Space live! I dance, unapologetically, while singing this absolute masterpiece of a song. The instrumental break of this song is so freaking cool with the strings. Not caring if I'd have a voice in an hour, let alone tomorrow, I belt "Everybody in the whole of the world feels the same inside, woah, woah," continuing to the guttural release of "in the whole of the world", which concludes this amazing masterpiece of a song.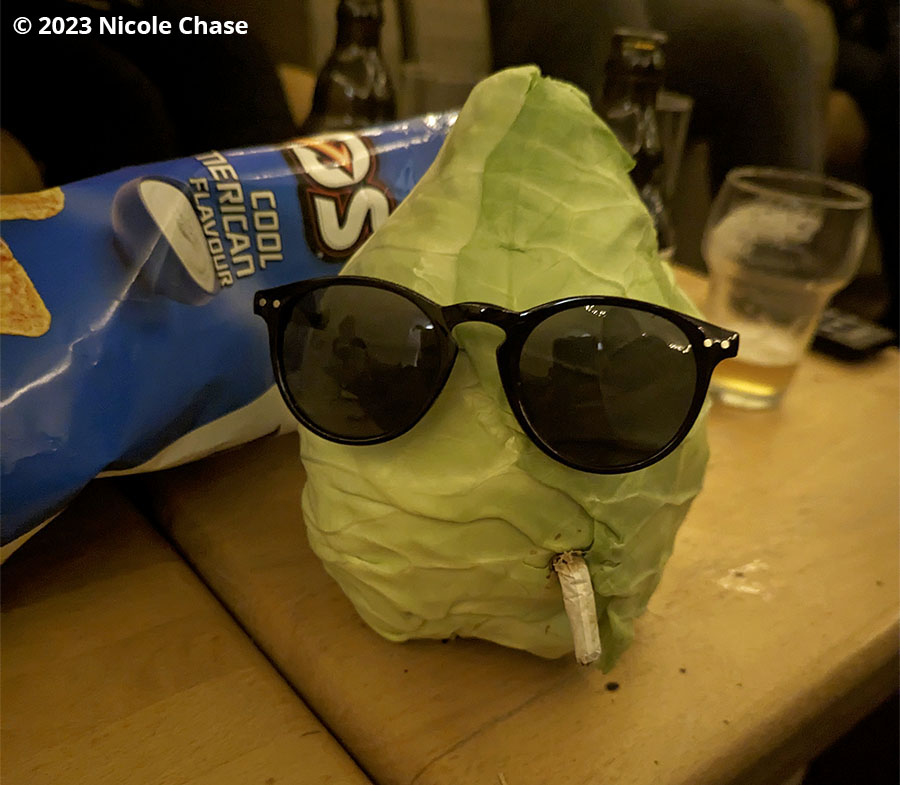 The band leaves again and comes back out. I notice that h is wearing a jacket that can only mean one thing: Separated Out! But wait… The Follies are here, which means… maybe, maybe it'll be Zeparated Out?! I guess we'll find out. The screen behind the band has some brilliant carnivalesque sort of imagery, including a ticket for the Marillion Weekends. Before singing the first line, h encourages us to start clapping. We do. On the far stage right and stage left, there's people throwing giant balloons into the audience. Now it is a party. The instrumental break is fast approaching and I hope, I so hope that the Follies will play a portion of Kashmir with the band. The four of them, as one, stand up and start to play it. I scream and cheer. Hats off to the band member (or whomever, really) who suggested the creation of Zeparated Out. As the song, unfortunately, comes to a conclusion, I chant "we accept her, one of us". A perfect book end to this concert as during the band's set on the Cruise To The Edge, the final song of the concert was Separated Out. Beautiful symmetry. A balloon gently touches my head. The sample saying "Freaks! Freaks!" isn't wrong; we are (though, some may not admit it; I do, though). The crowd erupts as h does a curtain call, with, once again, more chanting of Pete's name. He wishes us a good night and that they'll see us tomorrow.

What a concert. I thought last night was incredible, but this? This?! Spellbinding.

There's a conga line that is approaching me because of course there is. I find a space to jump in and join it running like mad to catch up when it speeds up out of control in front of me. I have no idea why there's a conga line, and quite simply, I don't need to know. After it ends, I meander back and meet up with a group of people that I'm now chatting with who are planning on 'adopting' me for the night. Cool. This group is all from England, including a fellow Purple supporter of h's podcast, The Corona Diaries. They accept me as I know a lot about British comedy (of course I love Cabin Pressure, Blackadder, A BIt of Fry and Laurie, Jeeves and Wooster, and so on). Silliness ensued, but most notably, I see a cabbage, wearing a pair of sunglasses with a fag in its mouth(?). Colin, the name of this cabbage…uh, chap, is the unofficial, official mascot of their group. One of the people who've agreed to adopt me for the late evening (very early morning? Same thing, I guess), asks me a question about Colin, which immediately makes me playfully mime jumping over the couch we're all sitting on, holding onto Colin, which gets a big laugh from the group.

I end up licking Colin. A good night all the way around.


19 March 2023

It is 12:20pm and I'm in the Market Dome. I'm in a crowd of people who are waiting in small groups so they could be let into the doors in front of me where the band is assembling for photos. It is our group's turn to go into the room with the band. Everything happens so quickly, I don't even get a chance to say anything to any of them, let alone know the order in which Ian, Mark, and Rothers were standing in the row behind me. Being short, I'll obviously be in the front, of course. I stood in between h and Pete and after a few brief moments, we are done and walking towards the door. Despite it being decades since I last did school picture day, this was 100% what it felt like. I don't think about the wish that I had of being able to thank the band in person; whatever happens will happen, even if it doesn't happen at some point today, seeing as we were all leaving tomorrow.

I get into the queue at a quarter past two. Very much glad that I opted to wear my hoodie as it was a bit brisk. Today in the queue, I meet a handful of people who, like me, are also Purples. The doors open and… we're off to the races. Being more intelligent today as opposed to yesterday, I run towards a gap in the rail and yes! I'm here and I'm safe. Whew. I'll be in front of Rothers tonight. Not going to lie, very impressed with my queuing skills; to go from having never queued for a concert before to doing so three days in a row, and from never having ridden the rail to doing so two of the three days: not bad, not bad at all.

I can see why people queue; it is a great way to meet people from all over the world as it gets awfully lonely if you just stand (or sit) in the queue and don't communicate with anyone, despite you and they both knowing that no one is going anywhere until doors open.

Tonight, unlike the last two nights, does not have an opening act: the band, technically is their own opening act. Once it starts, Lucy, acting as the MC of the Audience With Marillion portion of the Weekend, introduces the band one by one and has them come out to sit down at one of the five chairs on the stage. There's some endearing bickering that happens between her and Ian. What I think is a bit in that Ian notes that he can't hear her in the monitor in front of him, is actually a reality; in fact, no one can hear her. There's a country roll call video in which each country with representation at PZ, is shown on the screen. At the very end, Lucy asks us how many people are here attending their first PZ. I scream, and she asks the second, third, fourth, and so on until the eighth. As the numbers get higher, the screams and cheers get louder, too. She asks how many people were at the first Weekend back in 2002 and there's a considerable amount of cheers. Amazing. She asks a few questions to the band members, but also has us cheer for countries who were supposed to make it, but couldn't, including Palestine, and the Ukraine. The latter of which got the biggest cheer so far tonight. Powerful.

A video plays in which fans fill in the blank for what comes after "Marillion are…". Many of them feature people that I have interacted with in some capacity during the course of this weekend, but one, in particular, really gets a great reaction from the crowd. After the video is done, h makes a comment to Lucy: "I really like that 'Marillion are costing me a fortune' one."

There's also a video in which various musicians both in and out of the prog world congratulate the band of 21 years of Weekends, including Steve Hackett, Richard Barbieri, Trevor Horn, and Nick Beggs being, well, Nick Beggs. At least he was wearing clothes (albeit, not much). "Lucy, how did you get Trevor Horn to be part of this? I don't even hear from him?"

Lucy smiles at h and says "Oh, well, I went behind your back and contacted him myself. You do call him, right?"

"No," he replies, cheekily.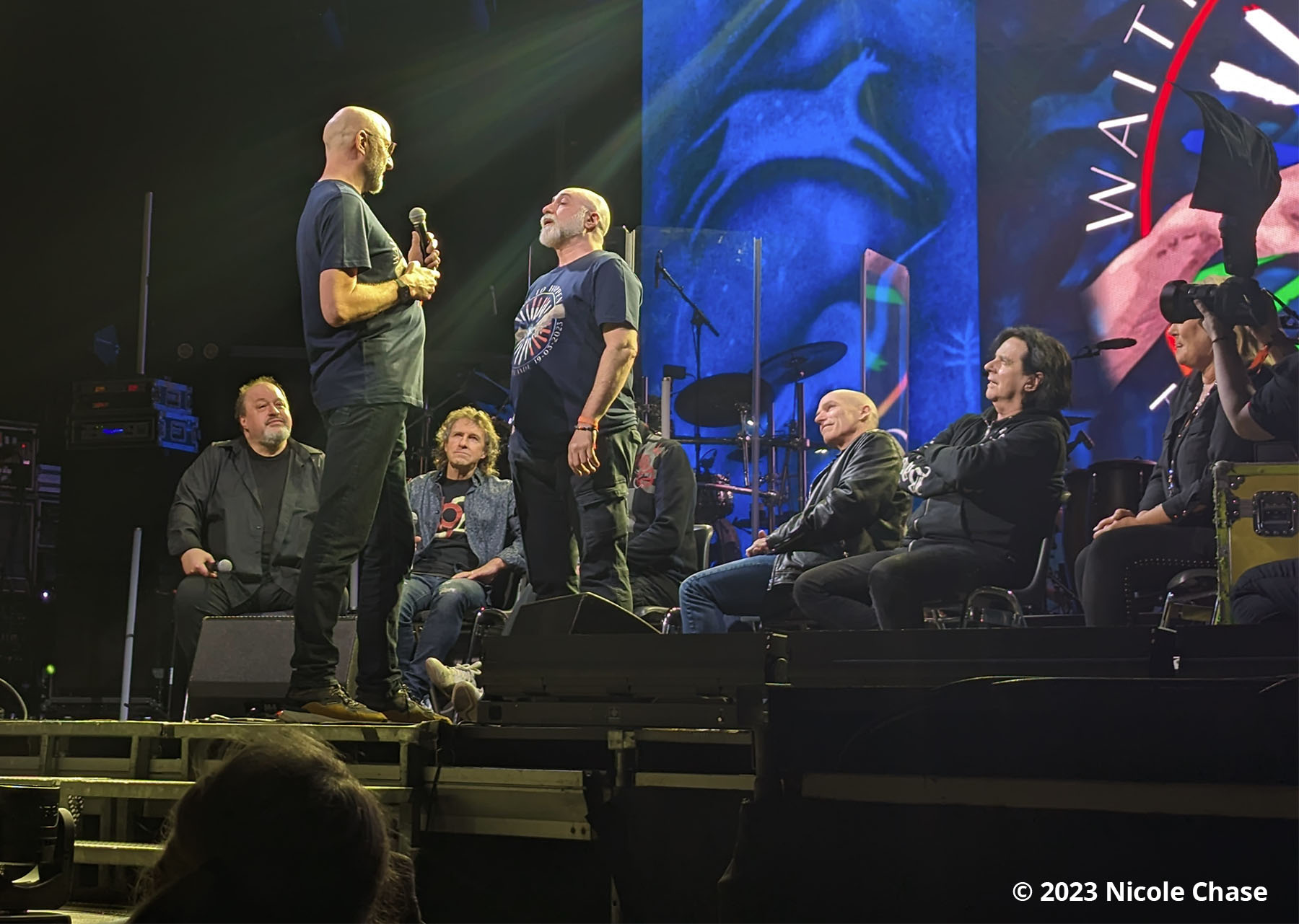 The screen shows a picture that is a shirt design, as the two men on the stage in front of the band are wearing that same design on their shirt. The taller man starts talking and I start bouncing up and down on my heels because, based upon the design (I mean, it says Waiting To Happen, c'mon), and the fact that this is happening, right now, in front of the band and everyone else, means that someone is going to get proposed to. The speech prior to the proposal is very sweet; and when the man speaking gets down on one knee, the other man immediately covers his face; he appears in shock. The man on his knee does the proposal, and… the other man says yes! We all clap and cheer as they celebrate with a kiss and hugs from the band. They get a photo with the band, too. Many blessings to that couple and relationship goals, honestly. Perhaps one day, I'll find someone and ideally, they'll be a fan of the band too. A few more photos are taken (one with the quiz winners, one with the partners of the band members as they're all in attendance, and one with the charity raffle winners).

Lucy tells us that the set will begin in the next 30 or so minutes "the band needs to take a nap now, otherwise they'll hate me." We don't want that, Lucy.

A short while later, action happens on the stage; the lights are blue and look like they're on the water; the water sounds sample starts as does the boat noises. Mark and Rothers eventually come out to pick up where the samples left off. Pete and Ian join them. h comes out to begin the vocals of the song "Staring out over the bridge. A million photo flashes from the water down below." If they end up doing all of Brave, or even a good portion of it, chances are, I will ugly sob. The audience is still singing, but are also respectful given the content of this album. Bridge feeds into Living With The Big Lie. The screen displays some of the words of the song in a font that makes sense given the nature of the song. There really aren't many people singing along tonight; I'm personally mouthing the words because I, unsurprisingly, really don't have a voice at the moment.

After the mini Brave selection is done, h welcomes us to the last night of the Weekend. He says that tonight's theme is chill, slow songs that they don't do super often.

Born To Run comes after, and then White Paper plays. This song has never, ever hit me like the way it does tonight. Despite hearing this song very often, perhaps it is the first time I'm considering the weight and the power that these particular words have. The song ends with tears in my eyes. This leads into Sugar Mice but we sing, like 95% of it and at one point, h stands near the edge of the stage looking at the audience with wonder. It is stellar. After the song ends, h thanks us for doing that, going on to say it might be the best version of that song, ever. The crowd cheers, feeling proud of our work.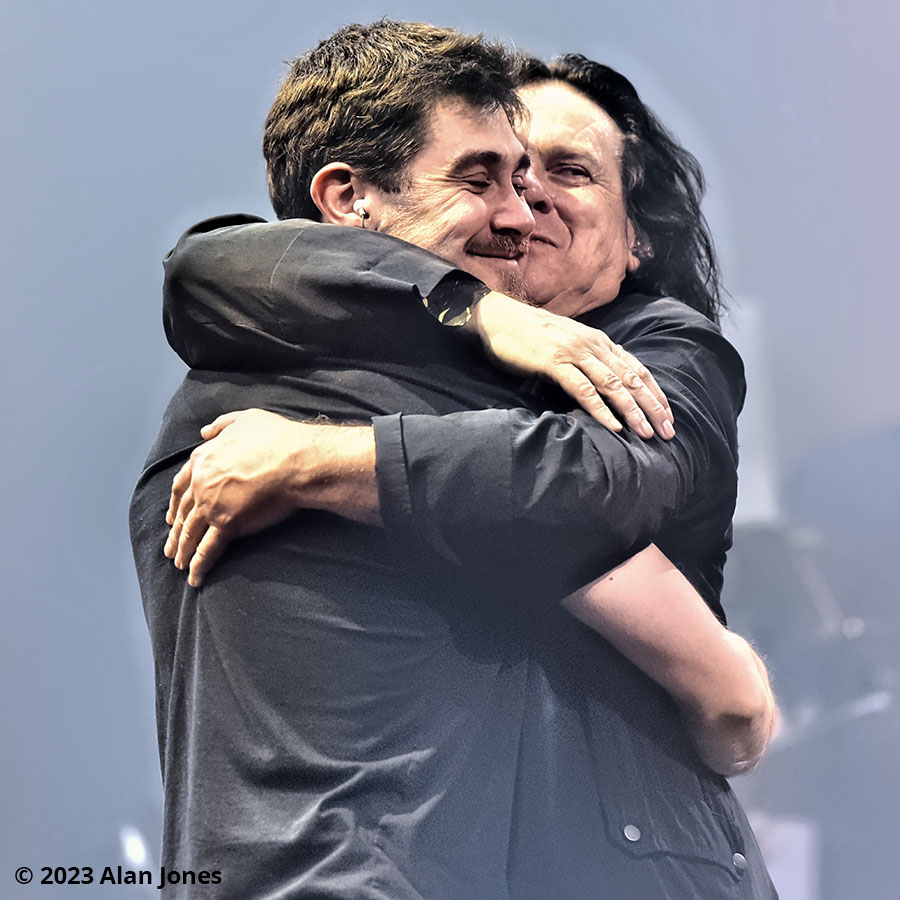 Older Than Me starts to play, which is the song that Mark was teasing during the first episode of 'Marillion Monthly' back in January as the song that they'll be doing during Weekends that they've not ever done live before. The next song, Afraid Off Sunrise, starts and this song is just a treat to hear live. It is, for me, the emotional precursor to Afraid Of Sunlight, which of course, is obvious, but when I listen to Afraid Of Sunlight, I'm glad to have some preparation before sinking into the title track of the album that usually smacks me in the head. After the song is over, h calls his son, Nial, to come to the stage as he mentions that tonight is Nial's last concert, his last time being his tech. It is obvious both by their body language and by the fact that h says that he's proud of his boy, that it is genuine. They embrace while cheers and applause ripple through the tent. It is a precious, precious moment.

Map Of The World makes for excellent usage of the screen in that throughout the song, the screen shows videos and pictures of fans holding up flags of their respective countries. It appears to be similar footage used during the Made Again 2020 video that was done during lockdown, but it is still cool that it is being used again. I have a thought that might eventually become a book or an idea that I'll present at an academic conference about music and cognition. Said observation is that each fan brings a level of uniqueness to the collective fandom, or 'family', if you would; because we are all the aggregate of our life's experiences, musically and otherwise, we all experience things a little bit differently. As I glance around at the rows of people standing behind me, taking in the concert, taking in the energy and the love that is rather palpable, we're all fans of this band for different reasons; we each have our own thing that motivates us. I recall people telling me that they don't care where they stand, they just want to be by Pete, or by Rothers. Others want to be anywhere in the front. I see a person, with a dreamlike expression on their face, look over at Rothers like he's the most magical, mystical, and majestic entity to grace this Earth. There really is something for everyone, isn't there? I ponder to myself. I turn back towards the stage forever changed by this observation.

Pour My Love is next and in the past few months, my love for this song has grown astronomically; probably because my heart has started to become more open to the idea, and to the desire of love as opposed to sheltering myself from it because I didn't want anything to do with it.

But I digress.

h is about ready to start the next song, but Nial runs out and says that there's a problem, and then gestures to Ian's kit. As it turns out, Ian's kit requires emergency, and immediate, surgery as the snare needs replacing. Oh dear. Nial runs back, and h gestures to Pete and they do a bass and vocal version of The Bell And The Sea while Mark and Rothers stand off to the side. It is stellar. It is bluesy and gritty; so, so much different from any other version of this song I've heard thus far. I really hope it is left on the DVD from this Weekend because that song alone would be worth the price of it. After this is Somewhere Else. A wonderful song that fits quite well with this overall theme and vibe that this setlist has had so far. A tech runs out with a megaphone with perfect timing. I appreciate that effect is done live; on the studio recording, it makes for a neat metaphor. As a Tarurus myself, seeing the Taurus symbol appear during the "Mr Taurus ate a thesaurus, made the girls cry and skipped straight to the chorus" line that h is singing right now pleases me. Course, that's probably behaviour that is simply expected out of a Tauruian, I suppose.

The band leaves the stage. In all likelihood, the song that they are about ready to start will be the last song of this Weekend, which is frightfully depressing. A sample begins to play and the audience reacts by cheering and applauding. As the song is A Few WordsFor The Dead, I can see why they do so; an excellent closer to the Weekend. Being in the front, I see a few crew starting to set up the confetti cannons, and see packages of red, pre-cut heart shaped confetti. Well, I know what part of the song that'll happen during. Smiling to myself, I turn my attention back to the stage as the band starts filing back in. h comes out and starts to sing "Can you make it, on your own? Can you take it by the throat?" With perfect rehearsed timing, Nial runs out with a very realistic AR style rifle so h can hold it up during "Pick up your weapon. Marry it, give it your name." I giggle at the line "Take it down to the disco" with the juxtaposition of h holding onto this rifle while pretending he's in Saturday Night Fever. Amazing how a simple, yet complex, prop can reinforce imagery that is already powerful. Even though I know the rifle is fake and I know it is being used to demonstrate the story in the song, especially as it relates to the violence being shown on the screen, the rifle scares me. Americans see them on our screens, and on our social media accounts what feels like a few times a month with all of the mass killings that have happened in the past few years in areas that are supposed to be safe, and yet, nothing is being done about them. I won't go on. The song builds and builds until the beautifully constructed climax of "Or you can love". The rifle has a flower coming out of it. No bullets, just love. The remaining lyrics of the song wash over the audience like a cleansing wave that reinforces, to me, how the power of love can, and should overcome hate. How it can and should overcome picking a violent, predictable path and doing something that benefits humanity so much more than senseless violence. So much more than senseless killing. "Love is all you need", obviously. The people holding the Or you could love language signs on either side of the stage file off as the song ends. An emotional moment. Applause, the roar of the crowd, and likely what are tears from many people in the tent are thrown back at the band.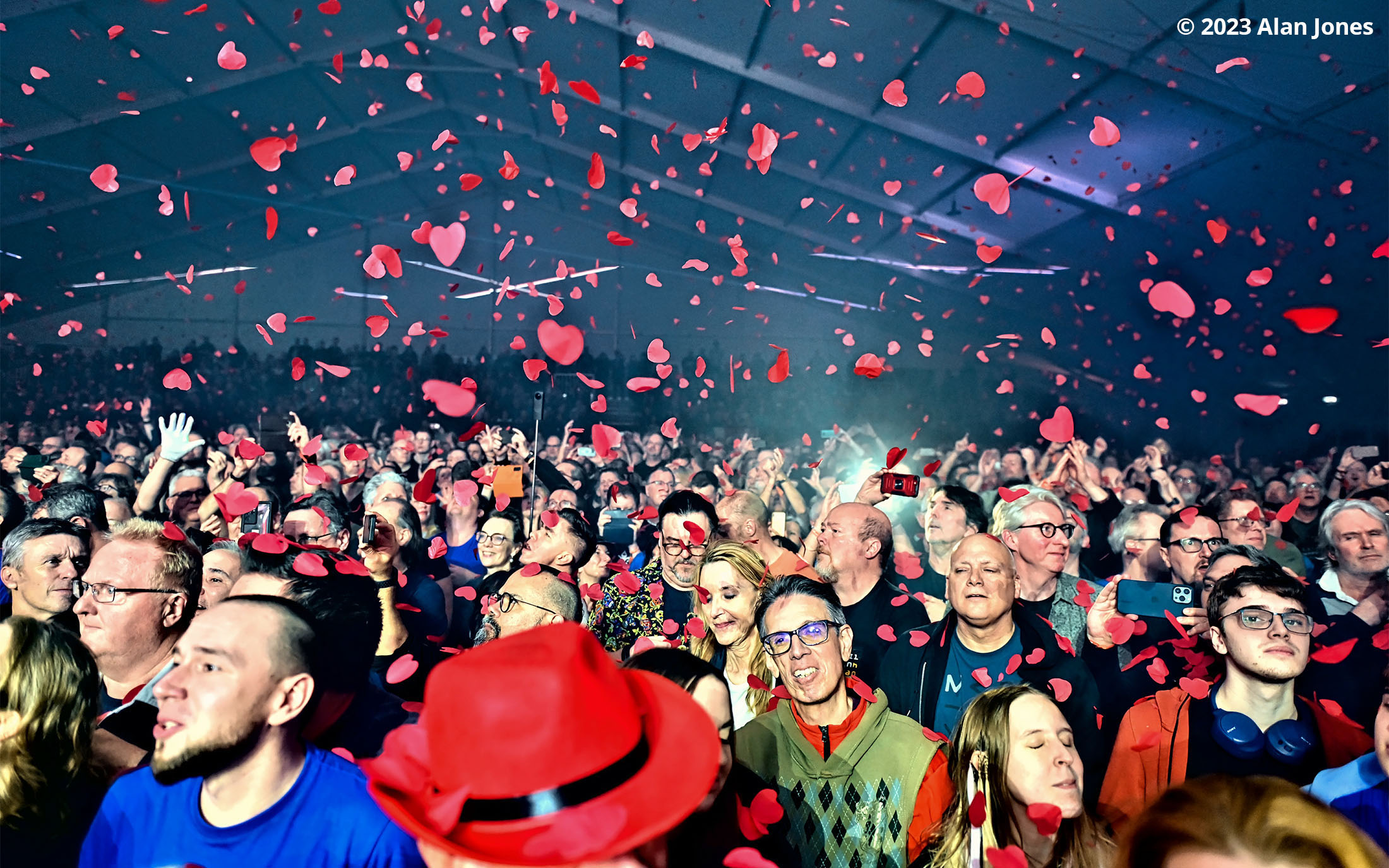 h does the curtain call with the band again, and for the last time this weekend, 3000 voices chant Pete's name when h introduces him. Before h, the band, and Luis walk off of the stage, h says "No one knows how much time they've got left, so have fun!"

My goodness that line. If there was ever a thesis statement to this PZ (for me, at least), that's it, right there.

I know it is from Care, but geeze… that line almost unravels me. The 'have fun' part, in particular. Despite seeing what I've seen during my life that should reinforce how quickly life can change, how quickly life can begin, and how quickly life can end, in this single moment, this instance is orders of magnitude more powerful than anything I've ever seen. A decision that I've been weighing in my head for weeks comes to an end because I know what I need to do. I'm going to do it because of this line because, dangit, I do need to have fun. I've lost decades of my life resisting the urge to do something, anything out of fear or because I feel like I didn't deserve it.

Like I didn't deserve to be happy. I just listened to a song that ends with "They chanted his mantra together. You could love. And they were happy!" Why not? Why not be happy? Why not choose life, choose essence, and go digging.

I stand in front of the rail watching the crew begin the process of tearing down the stage and putting equipment back. It is a coordinated effort and it is fascinating as hell to watch, despite fans screaming at them for setlists or for picks. They throw a few picks and I look over and see one of them on top of a makeshift seat for the photographers who are in the pit. I lean over and grab it. It is a white pick that says 'Marillion Weekend Port Zélande 2023' and on the back, it says 'band's ok, crew's brilliant'. I put it in my wallet so it is safe.

I meet up with friends after the concert as the start of the mind-numbing comedown start… already. Though, I must say, finding out that the Danish sign that was held up during A Few Words For The Dead didn't, in fact, say, "Or you could love", even though the words on the screen did, it was actually a Danish grocery shopping list talking about cabbage and such. There will likely be another Colin the Cabbage at the next Weekend.


20 March 2023

I, incredibly reluctantly, step into the coach that will take me back to Amsterdam's airport. The weather, a sort of persistent, gloomy rain, mirrors my pensive mindset as I look out the window from my seat, seeing the last few parts of PZ before it disappears into the distance.

Hours later, I am sitting on a plane that is minutes away from taking off to head back to the States. A thought whispers in my ear that I choose to not acknowledge. Hearing h's words as he and the band left the stage last night haven't stopped rattling around in my brain, I go to Google Flights and start to look at flights from where I live in Florida to Stockholm for late July into early August. I'm going, come hell or high water, to h's forthcoming Holidays in Sweden tour. It is scary and insane, but running towards scary things and doing insane things are important because there might not be a next time.

As the plane touches down in Florida, after over 12 hours of traveling, and after being up for technically over 24 hours, that same thought whispers in my ear again, louder than ever. I cannot ignore it any longer. The thought senses my yielding and lets me feel the weight of not wanting to be in the United States at the moment. Or possibly anymore. I know the thought is true because, well, it is part of me, after all. Outside of my instruments, which could be easily transported, I don't legitimately know if there's anything that is keeping me in the States; everything that I'm doing here could be done elsewhere in the world. I need to start doing my homework on how to move out of the country. Liike, for instance, Europe. Despite anticipating that I would experience a pretty profound 'mind-numbing comedown' in the wake of attending PZ, as I have been since last night, I did not anticipate that one of the 'side effects' of the mind numbing comedown, would be anger. This anger is due to where I'm at right now. How this isn't where I belong. And no, not just my apartment that I'm standing in right now, but where with a capital W. This apartment, this state, this… country isn't where I need to be anymore. It is a refreshing, albeit scary as hell, thought to have. I don't know where I'm going, hell, I don't know where in this world, which country I belong in, but I know I'll find what I'm looking for in the future.

Perhaps I'll find what I'm looking for, or maybe even a clue in Montreal when I'm there in May for my second Marillion Weekend, or some cafe or pub in Sweden when I'm there in late July during the Holidays in Sweden tour, or wherever else my own map of the world takes me. For too long the chains of uncertainty and fear have kept me down, thinking that I couldn't do something because it scares me. Because it is too massive. Because it is safer in the cage. Not anymore.

So have fun? Yes: I intend to do just that.


---

< back