After leaving art school, Mark Wilkinson found a nine-to-five office job drawing illustrations used for heating and ventilation companies. Realizing this was not exactly what he had in mind for a career, he started freelancing for comic books and magazines catering to fantasy and science fiction fans.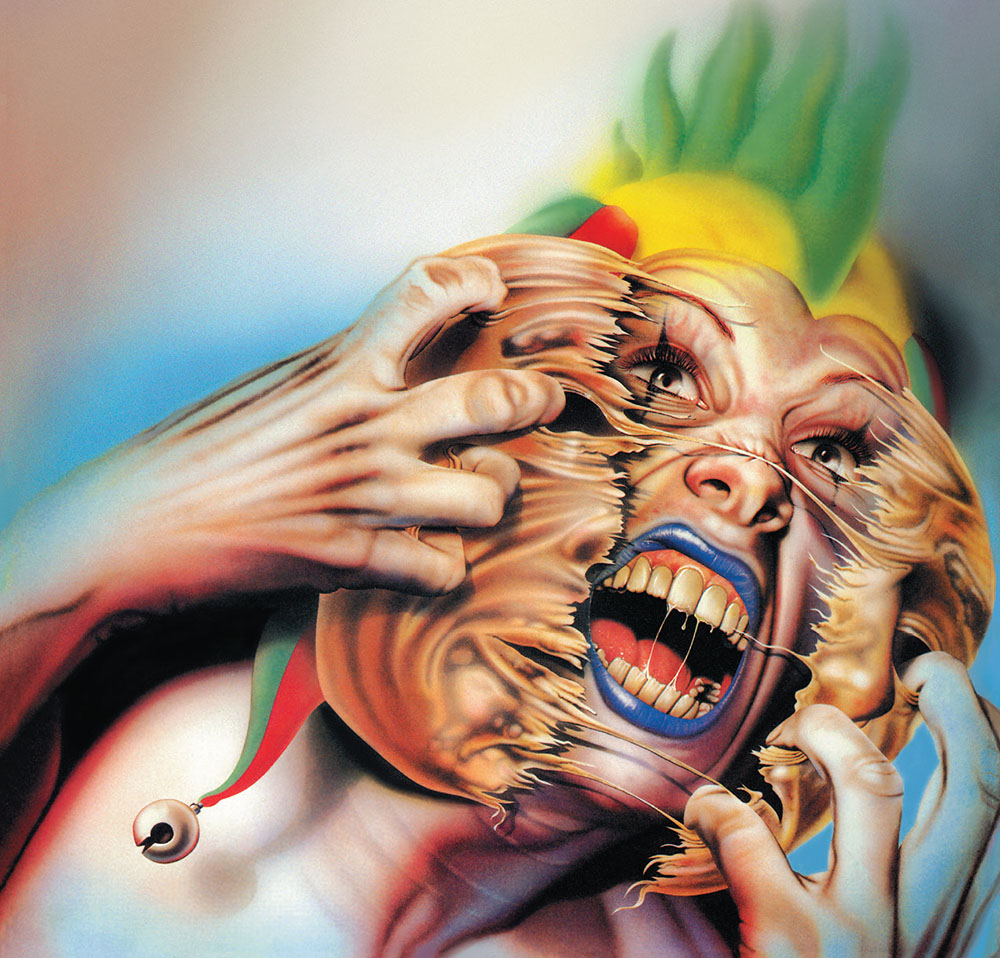 Mark Wilkinson's artwork for the cover of Marillion's 1983 single He Knows You Know

This was fine for a while and kept Wilkinson busy while he searched for gigs in the realm of album art. His first would be a concept he executed for an executive at RCA who envisioned the cover art for a 1982 heavy metal compilation called Hot Shower, featuring a Tron-like image of a guy in an asbestos suit and helmet wielding a Stratocaster spewing neon flames. Wilkinson's next album cover would mark the beginning of a long relationship between the artist and English prog-rock band Marillion to the tune of nineteen of the band's studio albums, as well as records for the group's original vocalist Fish.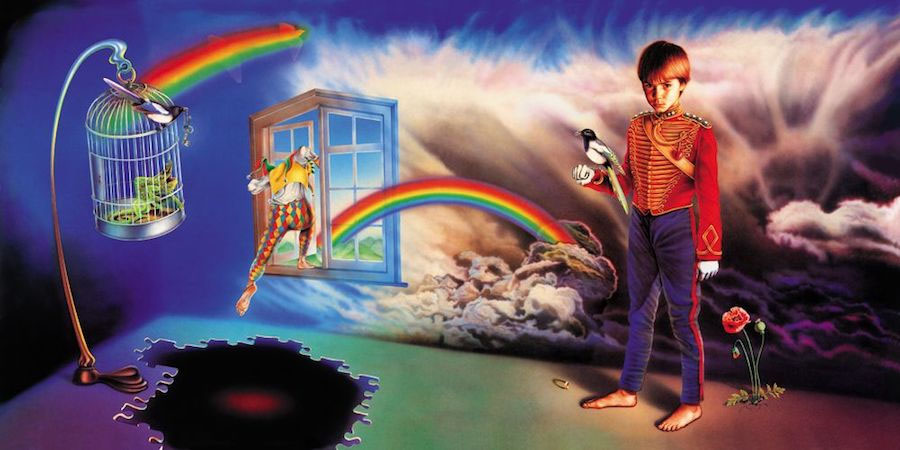 Mark Wilkinson's artwork for the front and back cover of Misplaced Childhood

Wilkinson came by the job after overhearing a conversation about a company called Torchlight and their need for new artistic talent while at a pub in London. He then phoned Torchlight inquiring about work and was invited to come in and meet the art director, who told him the job was creating album artwork for Marillion. In an interview for a Bulgarian Iron Maiden fan site, Wilkinson would call this point in his still-young career as his 'big break'. Another turn of good luck for Wilkinson was scoring the job of creating posters for the Monsters of Rock festival held at Castle Donnington. This would lead to requests for his master-airbrush services by mega-metal acts playing the festival, specifically Judas Priest, who the artist has also had a long relationship with. Others would follow, such as the Scorpions, Iron Maiden and Swedish band Europe.

His air-brush work, while most closely associated with the 80s, was inspired by the psychedelic 60s British graphic design duo of Michael English and Nigel Waymouth, known as Hapshash and the Coloured Coat. He also credits underground Zap Comix hero and psychedelic poster artist Rick Griffin with helping guide his artistic style. His work with Iron Maiden would begin after the band decided to give a little makeover to the most famous heavy metal mascot of all time, Eddie (created by Derek Riggs). Iron Maiden's co-manager Rod Smallwood appreciated Wilkinson's approach to his images of Eddie as he believed the artist clearly saw that Ed was much more than "just a skull." His work with Maiden has appeared on various albums and other Maiden merchandise.

Wilkinson would return to comics, creating incredible artwork for the Judge Dredd series on several occasions in the 1990s and beyond. In 2000, Wilkinson released the now hard-to-come-by book, Masque: The Graphic World of Mark Wilkinson, Fish and Marillion, a 180-page volume full of color images of his work. You can also purchase prints and more from Wilkinson on his official site.


Reproduced from the Dangerous Minds website.
All images © Mark Wilkinson
---

< back